How to Respond to the Impact of COVID-19 to the Spirits Market
March 10, 2020
Posted by:

Yiannis Zarkadis

Category:

Business Strategy, Crisis Management, Leadership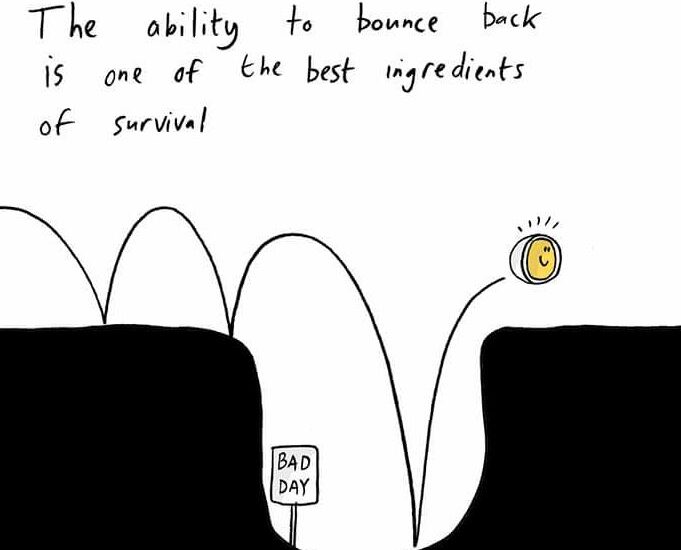 As I write these thoughts, the epidemic has expanded almost to the whole world.  In the beginning, most of us thought this would be something limited to China, but this is no longer the case, since the virus has gone global.  And Italy orders quarantine of whole country!
We understand that this new situation will have significant impact on the economy.  And there are some sectors and channels that will be affected more than others.  Unfortunately, among those that will be most affected are the broader sectors of Entertainment and Hospitality and within them HORECA.  By extension, this will have a significant impact to alcoholic beverages.
Basically, there are three questions that need to be answered.
How long will the crisis and its consequences last?
 What exactly will the impact be?
How should we respond to this new situation?
It is too early yet to know exactly what the consequences will be.  Here below we make an effort to draw and describe the topline of our thoughts to these key questions that concern us, whether we are in a large multinational or local supplier, or we are a local distributor or wholesaler, an on trade outlet or a liquor shop.
How long will the crisis and its consequences last?
Our best estimate is that the effects on markets (thus in spirits too) will have the form of a U curve.  Although we could be more optimistic than this and predict a V one (fast decline-fast recover), for the time being we prefer to be conservative and we hope to avoid the worst, i.e. the L case.
Having said that, we expect the market to suffer until the third quarter of the year and may be even the fourth.  We expect the positive reverse to take place within 2020/Q4 or 2021/Q1.
What exactly the impact will be?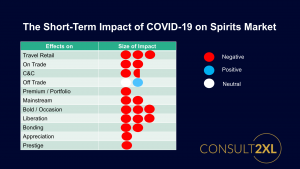 The crisis will impact the whole supply chain.  Here we focus on the commercial side.
People limit travelling and mass gatherings.  But most important of all is that there is fear.  One of the most important needs on which spirits base their consumption is the need of people for sociability.  In the short term this need will be hit.  However, we believe that the need for sociability in the long run will keep on being a basic need.  But what can change is the occasions through which people will fulfil this need.  This remains to be answered and will be answered over time.
Based on this rationale, the table above summaries the effects and their size from a commercial point of view.  Channels and portfolios will be hit, as well as the  various occasions of consumption.  However, the impact per case may be different for obvious reasons.  Generally, we tend to believe that in terms of channels the ones that will suffer the most will be Travel retail and On Trade.  The Off Trade, because of a potential channel substitution will likely grow.  From a portfolio perspective, mainstream brands will be affected more than premium.  In terms of occasion, the biggest impact will be on Bold, Liberation and Bonding, which are closely related to "loud" entertainment and social gatherings.  By extension, this will affect categories in a different way, e.g. vodka, tequila, rum, gin and vermouth maybe more affected than other categories in the short run.
From a geographical POV (let aside the clear cases of countries like China and Italy), in relation to the countries that will suffer from a kind of mass infection, the more on trade oriented they are, the more they will be affected.  It is too early yet to define how exactly these markets will behave in the upturn.  For example, if they have a sharp growth (because of deprivation, end of fear and consequent relief), or a milder come back, or even a definitive and long term change of habits and behaviours.
How should we respond in this new situation?
If the crisis has the form of a U curve, it means that in terms of strategy you should not overreact.  For sure you have to take take actions and manoeuvre, but in order to talk for a strategy shift you need a better visibility and understanding.  It is better to revisit strategy, when the market moves into the upturn.  Because this is when you will be able to understand better the long term effects of the incident.
Reallocate resources.  However, because of point (1), whatever you do, it is very important to make it in a delicate way, without hurting long term strategic links and relations.  Especially with whatever has to do with Trade.
Prepare well for the next day.  No matter what the impact will be, this crisis brings us faster ahead of developments and trends that existed before.  Working remotely, working from home, working from anywhere, teleworking, teleconferences, on line training and learning, flexible workplaces, sustainable practices, home on trade and all other related … these are issues that came up as trends during the last years.  Technology, digital, climate change and epidemics, all call us to bring them in front of the agenda and Do It Faster.
Develop a detailed and cohesive Crisis Management plan, especially in countries and regions most affected.
Execute with courage.  Consistent, constant, clear and frank Communication to employees, as well as strong Leadership are vital.  You must win the key battle: this is the battle of "Connection" with your People, Teams and Key Partners across all fronts.
This new situation is a serious one.  It will last for some time, but it will pass.  On the way, spirits will suffer a decline, the extent of which will vary across regions, channels and categories.  Companies have to take their measures and actions, but generally speaking they should not overreact.
We are certain that the sector and all key stakeholders will be rising to this new challenge on the strength of their own foundations.  Once more, they will stay committed to their basic Purpose: to serve consumers and society with "Spirit For Life".
What other ideas or thoughts can you add? Please leave a reply.