April 2, 2020
Posted by:

Yiannis Zarkadis

Category:

Change Management, Leadership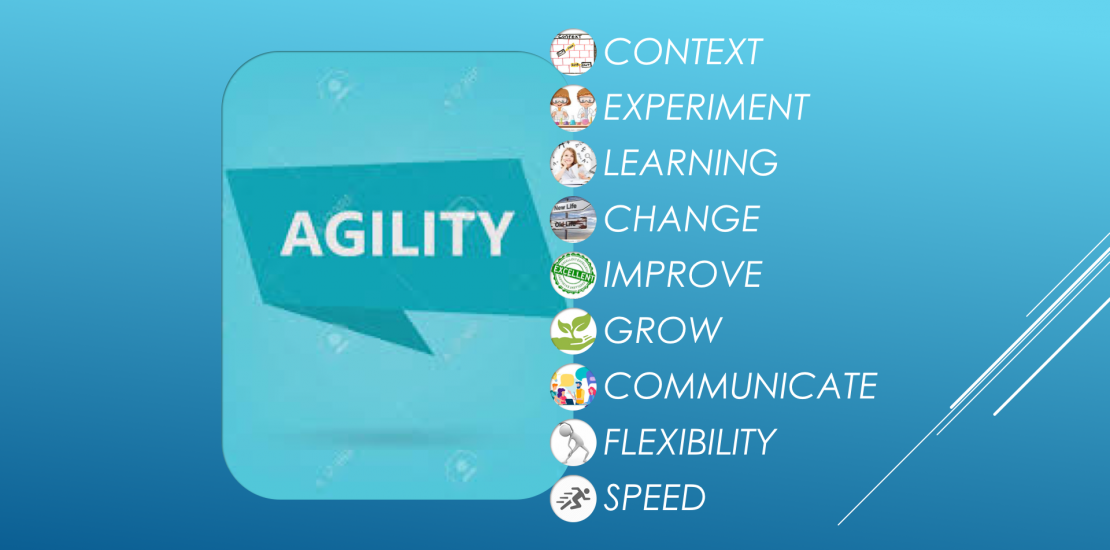 In our turbulent times, when everything that we know seems to fall apart, one concept of Leadership emerges as one of the most critical: it is Agility.
"Agility is the ability to adapt to an ever-changing and uncertain environment."
Agility is complex, multi-dimensional and context-specific.  It refers to the interface between the organisation and the market.  It is more of an offensive and proactive approach.  As we will refer below, Agility is a set of various leadership skills.
Sometimes, we tend to confuse Agility with Adaptability.  But Adaptability is more of a defensive approach in response to the pressures of survival.  Adaptability can be seen as a part of Agility.  And of course, as a unique skill, it is one of the most important ones in the long run, as Charles Darwin proposed in his famous theory of evolution.
If I had to choose, I would say that Emotional Intelligence is the Sufficient condition and Agility the Necessary one, in order to cope successfully with the unprecedented challenges that we face today.
If we analyse the features of Agility, we will easily understand why we consider it to be so important.  Here below are what we consider to be its main features.
Understanding the Context and Content
Experiment
Learning
Change
Improve
Grow
Communicate
Flexibility
Speed
In relation to the above features, we pay particular attention to the following.
Context prevails over the Content
When we talk about Agility, we need both, the ability to be aware and understand the context of the situation as well as its content, i.e. the different parts that lie within and affected.  But as the global challenges evolve today and as they affect our fundamentals, it is the context that prevails over the content.  Leadership comes first and strong leadership has to do with effectiveness (What to do) … Management comes after – and strong management has to do with efficiency (How to do it).
Experimentation relates to Flexibility, Speed and Change
It is straightforward that experimentation relates to innovation.  And innovation brings change.  The ability and the freedom to experiment is widely spread in startups as well within the innovation teams of large organisations.  Startups and innovation teams operate differently than traditional bureaucratic structures.  They operate in networks, they are free to express and touch action buttons that can not be easily activated within a cumbersome and prejudiced culture.  In there, Purpose overwhelms Command, they challenge, they accept, they embrace and thus they are flex and speedy.
Improve is different than Grow
Here, "Improve" means the quest for mastery.  It means Better.  And "Grow" in our case means the ability to start something from scratch, – because we have to – like a baby and make it bigger.  So, Better and Bigger.  Improve and Grow.
For example, what is one of the key lessons of COVID-19?  I think that it is the need to improve and upgrade tremendously the level of the global Healthcare system, as well as to grow and extend its reach.  I have no doubt that the system, as is today – through the brave efforts of its medical staff and society, as well as through the excellent scientific collaboration, will help the humanity to adapt and survive.  But is it enough?  Probably we need a more agile system, with a more proactive and offensive response.
An excellent Communication ends in a great Collaboration
Today we need excellent communication.  Not only because people, the various stakeholders, the society in general, they need to know.  But also because the global challenges are multidimensional and they affect various aspects of business and life  So we must collaborate.  We will mobilise much more forces through a great communication.  A communication that inspires, builds trust and confidence, but also that describes in a simple and sufficient way our aim and plan.  Together we are stronger than alone.
Speed means move at the speed of the First
Leaders have to react and respond fast.  But this is not enough.  Because leaders usually are not alone.  They carry over a whole team behind them.  They must find ways to inspire and make their teams flexible and speedy.   To make this happen, they should never compromise to move at the speed of the last … or even at the speed of the median.  They have to push their teams to run at the speed of the First!  At the speed of Thought and Mind!  So fast …
What other ideas or thoughts can you add? Please leave a reply.